Shipping policy
SHIPPING POLICY:
Your order will be delivered to the shipping address indicated in your Order Confirmation. We will make reasonable efforts to fulfill your order by the estimated delivery date stated in your Order Confirmation, or if no date is stated, within 14 days after the date of the Order Confirmation (except in the case of pre-orders). Delivery within these timeframes is not guaranteed, and we are not responsible for any delays caused by any circumstances outside our reasonable control, including weather, strikes, acts or war or terror, errors or omissions by third parties, errors or omissions by you, or the decreased availability of transportation services.
If you would like to cancel an order, return a product, or initiate a warranty claim, please contact us first and send an email to our after-sales team customer@mardingtop.com to obtain the corresponding return address. After confirming the receipt of the returned goods, the refund will be returned to your account in the same way.
*Affected by Covid-19, there will be some delay on the delivery. We will be doing everything we can to provide the first class service our customers have come to expect.
Shipping Costs
We make a concerted effort to process orders within one working day.
Please see below for more information on orders that will qualify for free standard shipping. We have also detailed below the delivery estimate from the moment you receive your dispatch confirmation email. This will also include your tracking number. Unfortunately our delivery dates cannot be guaranteed.
Cancellations or amendments cannot be applied to your order once it has been placed.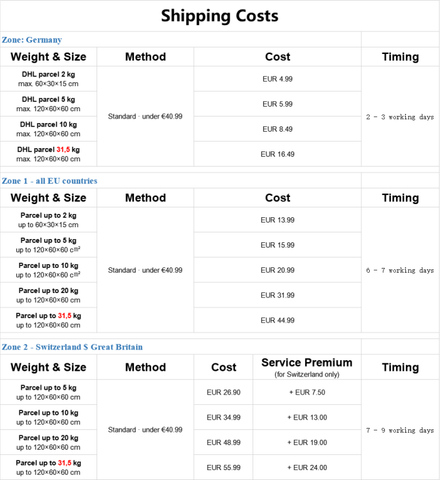 BREXIT UPDATE
UK Orders:
As our warehouse is based in the Netherlands, additional delays maybe encountered due to Brexit. Please go ahead and place your order, and we will send it to you as soon as we can. If you have any questions, please don't hesitate to contact us.